EL MEJOR LUGAR PARA HOSPEDARSE EN LA CONDESA, CDMX:

Juan Escutia 125, Colonia Condesa, CDMX

NI LO DUDES... DATOS DE ENLACE:

TEL. (55) 6286-3000. Pregunta por Daniela Cortizo

El Stayinn Barefoot Condesa es un establecimiento de 2 estrellas y está a sólo 550 metros de Castillo de Chapultepec, Parque Zoologico de Chapultepec y Colonia Condesa. Está en el barrio de ocio a 6 km del centro de la ciudad. Situado a sólo 350 metros lejos del alojamiento, El Kafecito y El Mirador de Chapultepec sirven una amplia variedad de platos.La estación de metro Chapultepec está situada a 450 metros del hostal.

LOS MEJORES MARISCOS DE LA CIUDAD DE MEXICO Y DE ESTE PLANETA, LA NETA...

Dr. Jiménez 288, Loc 1, Colonia Doctores, detrás del Centro Mëdico Siglo 21 y del Hospital General ..

PARA ¡CHUPARSE LOS DEDOS!

JAIBAS RELLENAS, CAMARONES AL MOJO DE AJO, PULPOS, LANGOSTA Y MUCHO MAS

Datos de Enlace: 5538-0536 & 5519-3494 Pregunten por el Guero Floriberto. eMAIL: This email address is being protected from spambots. You need JavaScript enabled to view it. & This email address is being protected from spambots. You need JavaScript enabled to view it.

--------------------------------------------------------------------------------------
VISITING MEXICO CITY?
BEST TORTAS, FOOD IN TOWN, walking distance from Alameda Central, Hashers highly recommend La Torta, located on 16 Independencia Ave., short walking distance from the Foreign Office (SRE) building, next to Chinatown, in the heart of Mexico City. Tortas (Mexican sandwich) are their specialty. Try their Cod torta... simply DELICIOUS. More information, HERE.
LAS MEJORES TORTAS DE LA CIUDAD DE MEXICO, a una corta distancia, a pie de la Alameda Central, el restaurante La Torta, ubicado en Ave. Independencia 16, a corta distancia del edificio de la Secretaría de Relaciones Exteriores, junto al Barrio Chino, en el corazón de la Ciudad de México. Les sugerimos la torta de bacalao, simplemente DELICIOSA. Más información AQUI.
-------------------------------------------------
If you suffer an accident, while running, cycling, exercising, we highly recommend RENACE Clínica de Rehabilitación, providing Neurosurgery, Orthopedics, Traumatology, Dermatology, Physiotherapy, Rehab, Sports' Medicine, their address is Tuxpan 16-2, between Tlaxcala & Tepic. Phone nos. cel 5546137027, direct 5389-9621, 55746027. CONTACT: RODRIGO FIERRO
SI HACIENDO EJERCICIO TE ACCIDENTAS CORRIENDO, RODANDO BICICLETAS, RECOMENDAMOS LA CLINICA DE REHABILITACION RENACE OFRECIENDO ESTAS ESPECIALIDADES MEDICAS: NEUROCIRUGIA, ORTOPEDIA & TRAUMATOLOGIA, PSICOTERAPIA, DERMATOLOGIA, FISIOTERAPIA & REHABILITACION, MEDICINA DEL DEP0RTE. DOMICILIO: TUXPAN 16-2, ENTRE TLAXCALA & TEPIC, COL. ROMA. CEL
5546137027, DIRECTO: 5389-9621, 55746027. ENLACE: RODRIGO FIERRO
-----------------------------------------
Grupo Orbita es un estudio multimedia especializado en diseño gráfico, tours virtuales, estrategias de marketing online y programación Web. Ofrecemos servicios profesionales de diseño, fotografía panorámica interactiva y grabación de vídeos. Domicilio: Av. Insurgentes Sur # 389, Local A, entre Michoacán y Campeche, Col. Condesa. SEGUNDA UBICACION: Insurgentes Sur 539, Local A, casi esquina con Nuevo León. Enlace: Gabriel Calva, This email address is being protected from spambots. You need JavaScript enabled to view it.
-------------------------------------------------------------------------------------------------
Mexico City's Sales & Technical Support for Laptops, Computer Equipment

Continue ...
Ing. José Antonio Vázquez Villegas
Soporte Técnico, Reparación y Venta de Equipo de Cómputo
Av. Monterrey 253-B, Col. Roma Sur, Casi Esquina con Campeche, Col. Roma Sur
Tel. (55) 5264-0617, Cel 5527091933 Email: This email address is being protected from spambots. You need JavaScript enabled to view it.
----------------------------------------------------------
PAPELERIA COPYRAPID

Londres 142, entre Amberes y Florencia

Copias, Engargolados, Regalos, Enmicados, Envolturas, Recargas Telefónicas. Servicio a Domicilio. Tel. 5207-4753. Contacto: Sra. Martha Gloria Martínez Domínguez. Email:

This email address is being protected from spambots. You need JavaScript enabled to view it.


----------------------------------------------------------------------------
ACTEL ELECTRONIC SECURITY IN MEXICO CITY


CCTV, ACCESS CONTROLS, ALARMS, SWITCHBOARDS, INTERPHONES, WEBSITES

Sistemas de Videovigilancia, Control de Acceso, Alarmas, Conmutadores Telefónicos, Interfonos, Video-Porteros, Websites

Contact: Diana Ramos & Jovany Cuéllar

Tonalá 125-2, Colonia Roma Sur, Del. Cuauhtémoc, CDMX

Tel. 5564-1609, 5518-6751, 4201-3998



This email address is being protected from spambots. You need JavaScript enabled to view it.


------------------------

LODGING IN GUANAJUATO, GUA.
Calle Posito # 17, Centro Historico
Guanajuato, Gto. - Mèxico
C.P.36000
Nextel (52) 473 129 18 60 Email:
This email address is being protected from spambots. You need JavaScript enabled to view it.
--------------------------------------------------------------------------------------------------------------------
In Mexico City ..

INSURGENTES SUR 455, HIPODROMO CONDESA, CUAUHTEMOC,

C.P.

06170,

DF.

Tel:

(55)5564-7763




Ir al metro Chilpancingo es una de mis aventuras favoritas porque puedo visitar la panadería La Espiga. Este lugar lleva más de veinte años en el mismo lugar y tiene cosas deliciosas que ofrecer. Su tamaño es enorme, y dentro puedes encontrar comida, refrescos y bebidas, postres, entre otras cosas. El primer pasillo tiene papas y comida chatarra que puedes consumir. El segundo pasillo tiene todos los refrescos y las aguas al tiempo, en el fondo podrás encontrar los refrigeradores que tienen los refrescos y aguas frías, así como hielo.

Más, AQUI.
--------------------------------------------------------------------------------------------------
LA CASA DE CANTERA
Yucatán 147, Colonia Roma, México DF.
Tels: (55)-5584-7597, 5584-3825 y 5574-1106. OWNER: Ing. Jesús Ruvalcaba Ponce

This versatile restaurant is founded in the early '70s as "Fonda las Tejas" & in 1972 it becomes "La Casa de Cantera".
As of 1980 the restaurant is characterized for serving Italian food with a unique environment: Italian live music, a quartet of musicians playing inspiring classic music. Also, a Mexican mariachi group and why not? a live northern music band.
In addition, we created a new concept in this type of business: seafood buffet as served in 5-star hotels except that we charge modest costs, operating daily. The establishment became a success. To this date many demanding customers continue to be our regular customers to enjoy our attentive service, menu, entertainment, including well-known politicans, artists, members of the press. The demand for our service has been such that each day is a new challenge to us.
The restaurant is located in an old, beautiful colonial building, formerly owned by a famous Mexican movie producer. Customers have access to "La Biblioteca" (library) which is intact as the owner had it. We promised him that we'd keep this sacred space of the property as is since this was the area where the movie maker created his art. On the wall clients can appreciate a very large collection of photos and posters which recreate the golden era of Mexican film-making.
We invite you to enjoy a wide variety of seafood dishes, angus beef steaks, paella, Mexican and international cuisine, salads & delicious desserts in a gorgeous place with a historic context. Your family will also enjoy live music to dance and a special area for children to engage in games designed for their age, entertainment while you enjoy a unique restaurant, its environment.
---------------------------------------------------------------------------------------------------------------------------------------------------------------
Lugar amplio y elegante, ideal para todo tipo de festejos como primeras comuniones, bautizos, aniversarios, cumpleaños, etc.
Este versátil restaurante nace a principios de los '70s como "Fonda las Tejas" y surge con el nombre que actualmente lleva "La Casa de Cantera" hasta 1972.
Desde 1980, el restaurante tiene un segundo aire, pasando a ser un lugar donde se podía disfrutar de comida italiana con música en vivo, desde un cuarteto de cuerdas hasta un mariachi y por qué no, un grupo norteño.
Después de esta etapa peculiar, se decide renovar al restaurante, agregándole un delicioso buffet de mariscos, del mismo nivel que aquéllos de los prestigiosos hoteles de la ciudad, pero a precios más accesibles y serviéndolo todos los días. Esto tuvo un gran éxito atestiguado por nuestros clientes exigentes, personajes del medio artístico, políticos y medios masivos de comunicación teniendo la necesidad de crecer debido a la gran demanda.
Además, el restaurante está ubicado en una construcción antigua y bella, que fuera casa de uno de los directores de cine más famosos de México, siendo "La Biblioteca" el área que se conserva intacta de como era entonces, debido a la noble promesa que se le hizo de conservar por siempre ese espacio sagrado donde el director de cine estudiaba sus guiones y donde hasta la actualidad se conservan un sinfín de fotos y carteles de la época de oro del cine mexicano.
Así, los invitamos a que nos acompañen a disfrutar de un excelente y amplio buffet de mariscos, cortes de calidad angus, paella, cocina mexicana e internacional, pastas, ensaladas y deliciosos postres, en un lugar con gran contexto histórico donde disfrutará toda su familia, desde música en vivo para bailar hasta área de juegos para entretener a los niños.
------------------------------------------------------------------------------------------------------------------------------------
The World Hash House Harriers

http://www.gthhh.com/
SAN MIGUEL DE ALLENDE
The SMAHHH meets every Monday at 3:00pm at the Longhorn Smokehouse bar and restaurant located at Calle Nueva 8. From there the Hare(s) send the Hounds to the trail start. Walking is an acceptable means to get to the beer. Pro Bono has been a Hashing all over the world since the mid-90s and was named by the Armenia HHH. Rat's Ass started running with the Amman HHH in 1983 and was named by the Aqaba HHH in 1984. He was with the Pikes Peak HHH in Colorado Springs, CO from 1988 to 2005. founded: September 18, 2006
.

CONTACT INFO:

This email address is being protected from spambots. You need JavaScript enabled to view it.

;

This email address is being protected from spambots. You need JavaScript enabled to view it.
Los Sultanes del Norte Hash House Harriers (SDNH3)
INTERNATIONAL DRINKING CLUB WITH A RUNNING PROBLEM
International group of non-competitive running, social clubs. An event organized by a club is known as a
Hash
or
Hash Run
, with participants calling themselves
Hashers
or
Hares and Hounds
. More,
HERE
A run of the Lima Hash House Harriers in Lunahuana
, Perú.
HHH es una agrupación internacional que se reúne para practicar una forma de footing con una orientación no competitiva. El evento organizado por uno de estos clubes es conocido como un
Hash
o
Hash Run
, y los participantes son los
Hashers
ó
Harriers. Mas, AQUI, en Español.
Wikipedia® is a registered trademark of the
Wikimedia Foundation, Inc.
, a non-profit organization

Frogland: serving your

Froggy


Silliness
since August, 1995
!
VISITING OAXACA, OAX.

Photo Credit: Transamericas
Excerpt by Lonely Planet: Open since 1935, this is one of Oaxaca's most atmospheric bars, 1½ blocks south of the Zócalo. It's a cantina, but a reasonably respectable one. One room has a large stand-up bar and shelves full of mezcal; the other room has tables where botanas are served. Most, but not all, customers are men..
Hashers recommend Hostel Azul Cielo located at Arteaga 608, between Gonzalez Ortega & Manuel Doblado in the heart of downtown Oaxaca. From the ADO bus depot to the hotel taxi cabs will charge about $ 35 pesos for the ride. Silvia Elena Aparicio Arellanes and her brother German, the managers, are offering a special rate of $ 140 pesos a night in shared dorms with a maximum capacity of 8 in each. Mixed groups. Average age 18-35. An exception has been made with :) senior citizens belonging to the MCHHH.

Check out their
photo gallery. To make reservations, please inform Silvia you are in our group. Her email isThis email address is being protected from spambots. You need JavaScript enabled to view it.

Upon confirmation of your name, intended dates of occupancy, she will forward bank accounts, procedure to GUARANTEE your accommodation. REVIEWS by Trip Advisor
VISITING ZIPOLITE, OAX.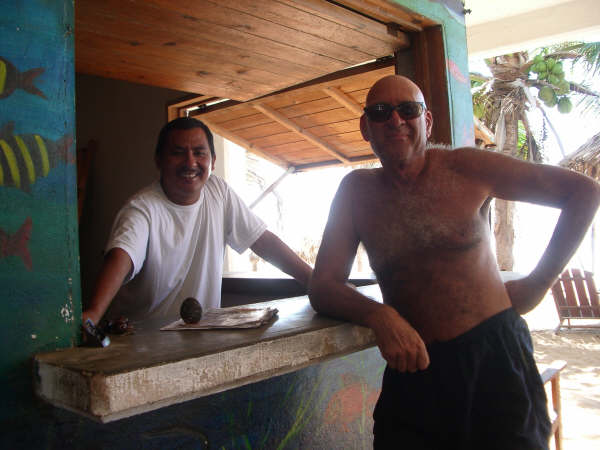 Owner Daniel Weiner, & manager Martin, pictured above.
Please write to
This email address is being protected from spambots. You need JavaScript enabled to view it.

to provide your name, dates of lodging. Upon receipt, Daniel will get back to you ASAP, to provide banking information, procedure to secure your accommodation.
¿DE VISITA EN ZIPOLITE, OAXACA?
Restaurante La Pasión by Trip Advisor
Jaime Díaz Arguelles
La Pasión, Col. Roca Blanca
Tel. no. 9581091824
---------------------------
Restaurante El Alquimista by Trip Advisor